Laser Hair Removal
Treatment in Newcastle
If you have a problem with unwanted hair growth, Laser Hair Removal can change your life. Throw away your razor and never wax again! For superb unbeatable Laser Hair Removal results come to Lets Face It Skin and Laser Clinic.
Don't make a mistake with your Laser Treatment. Before making an appointment for your laser treatment there is a criteria you should consider.
How experienced is the Therapist?
Will you have the same Therapist each time?
Is the machine a cheap import?
Does the machine have a freezer unit in the hand piece (without is extremely uncomfortable on your skin)?
At Lets Face It Skin and Laser Clinic our 4 Laser Hair Removal Therapists have each been removing hair with laser for over 13 years consecutively. This means you can feel safe and confident there will be no risk to your skin with our our Medical Grade Laser.
How does Laser work?
Laser is advanced new technology designed to destroy hair growth. Laser treatments remove hair by emitting pulses of light into the follicles. The light is absorbed by pigment in the follicles and converted to heat. The heat then loosens the hair and disables the follicular cells responsible for growing new hair. The results are amazing and are usually instantly visible after your first treatment.
Due to our super freezing hand piece we are able to give you stronger treatments with little discomfort resulting in better results over a shorter period of time. The treatment program begins when the hair is in the follicle; this means if you usually wax it you would have to wait around 3-4 weeks after your last wax to have your first laser treatment. In most cases we ask you to shave the hair you want treated either on the day of your appointment or the day before. Sometimes we request that you leave the hair so we can check its colour and growth pattern. This means we will shave it for you. A couple of days after the laser treatment the hair comes to the surface and gradually falls out giving you no hair to deal with from treatment to treatment.
There are 3 stages of hair growth: Anagen, Catagen and Telogen. The Anagen hair growth cycle is the only cycle of hair that can be completely destroyed with Laser. This means it is important you have your Laser done at specific times.
Prior to your appointments avoid tanning, using tanning beds and self tan creams and spray tans.
Can facial hair be treated?
At our clinic we do treatments on a large amount of clientele with facial hair problems. This hair needs to be shaved prior to the treatment and we prefer to do this ourselves. Rest assured we are careful to only shave the individual hairs required.
How often does Laser need to be used?
Facial hair is done every 4 weeks with body hair every 5 weeks. We estimate about 6-10 treatments needed with facial hair taking a bit longer.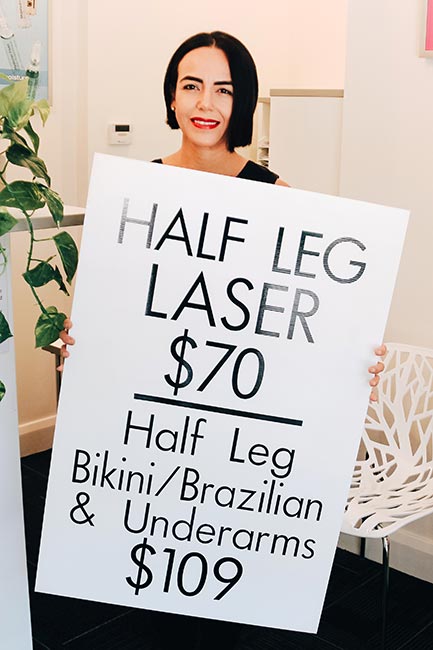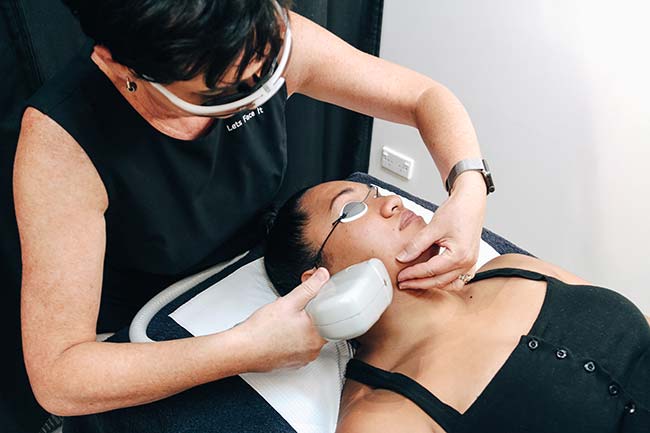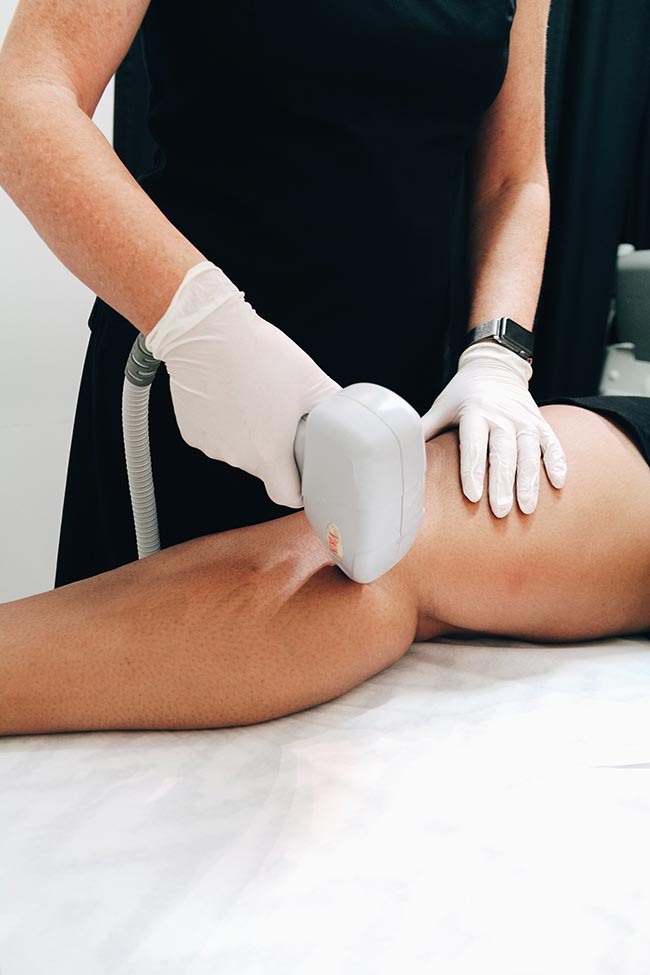 Prices for Men

Full face
$65
Full face + neck
$95
Lower half legs
$75
Upper half legs (no bikini)
$80
Full legs (no bikini)
$140
Standard bikini
$40
Back + shoulders + neck
$180
Chest
$70
Stomach
$60
Shoulders
$55
Neck - back or front
$40
Ears
$25
Hands
$30
Feet + toes
$20
Half Back
$70

Full Back

$130

Underarms
$25
Half lower arms
$60
Full arms
$95
Chest + stomach
$120
G-String
$60
Buttocks
$85
Full leg + bikini
$175
Full leg + g-string
$180
Prices for Women

Lip
$25
Chin
$25
Lip + chin
$38
Full face
$55
Underarms
$20
Bikini
$30
G-string
$35
Extended bikini
$35
Brazilian
$39
Brazillian/Bikini + underarms
$49
Lower half legs
$70
Half leg + bikini/brazilian + underarms
$109
Upper half legs
$70
Full legs (no bikini)
$109
Flea trail
$15
Breasts from
$15
Feet + toes
$15
Full leg + bikini/brazilian + underarms
$150
Half arms
$50
Full arms
$70
No Packages needed. No huge payment upfront. Simply pay these very affordable prices at the time of your Treatment.
Book Laser Hair Removal Now
Purchase a Gift Voucher