It is with great pleasure that we have this opportunity to introduce ourselves to you. We first opened in Newcastle City in 1978 and then moved to Charlestown in 1986 and over the years we have changed locations due to the expansion of Charlestown Square and the Business District. We're the longest operating beauty salon in Newcastle and we're known for our skilled and friendly team members.
We are family owned and operated by sisters-in-law Karen Fuller and Diane Dyne and accompanied by 6 fully trained Beauty Therapists aged from 25 to 62 years, which allows you to select a therapist whom you would feel most comfortable with.
We have 4 Laser Therapists for hair removal with each having over 15 years experience in this field. This means your Laser treatments can always be done by the same therapist. All IPL Skin Rejuvenation treatments include pigmentation, freckle removal and broken capillaries will be done by Clinic co-owner Dianne. For unbeatable quality, visit our beauty salon in Newcastle.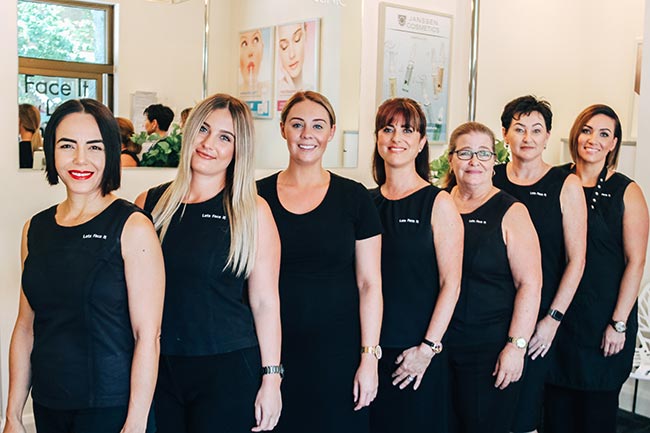 Beauty Services
Our Clinic is open Monday to Saturday. Our beauty salon services available include –
Acne Treatments

Cosmetic Brow Tattooing

Skin Tightening



Lash Extensions and Lash Lifts
Skin Tag Removal
Our promise to you is that we will always deliver excellence in service, confidentiality and pricing to you.
Looking forward to seeing you,
Karen, Di, Belinda, Carlie, Mary, Casey, Tiff and Simone.