Skin Needling or Micro-Needling
What is Skin Needling and what does it do?
Skin needling is the only permanent option when looking to restore elasticity to the skin and improve your complexion. Whether it be unwanted lines, wrinkles, melasma, a reduction in acne scarring, the collagen booster response to a needling treatment is a lasting physical change in the skin.
As this treatment is quite invasive we apply a generous amount of topical anaesthetic to the skin for ½ an hour before commencing the procedure. This does eliminate most of the sensations and makes the procedure quite pleasant.
Needling uses tiny acupuncture like needles to create miniature perforations to the skin. These small perforations set off a reaction in the skin where they stimulate the body's wound healing mechanisms and the skin begins to heal itself by producing new collagen, elastin, fibroblasts and new healthy skin cells. This combined reaction rejuvenates the skin, restores plumpness and eliminates fine lines.
The other great thing about needling is when these channels (puncture wounds) are open we use regenerative ampules whose nutrients are pushed into the skin throughout the treatment to reach the areas where they're most effective. Nothing you put on the surface has the ability to reach these depths.
As the micro-needles perforate the skin it will cause some minimal pin-prick bleeding. This is a good thing as it shows us we've reached the depth we need to get for the maximum reaction to occur.
The procedure does leave you a little red for a up to 3 days in extreme cases, but we give you a medicated foundation as part of your complimentary home care pack in case you need it.
Following the treatment, you may note a feeling of warmth and or tightness of the skin. This is a normal reaction to the procedure and will subside within a few days. Lots of moisturiser is needed at this stage. After 4 or 5 days you will notice a light shedding of skin off the surface and may need a gentle scrub just to remove any excess after approximately 6 days.
Your skin will appear tighter, fresher and smoother with a healthier even skin tone.
The Dermapen device is so advanced it has adjustable needle depths to allow for a treatment tailored to your individual needs and is even suitable and safe to use in delicate and hard to reach areas such as around the eyes, lips and on the nose.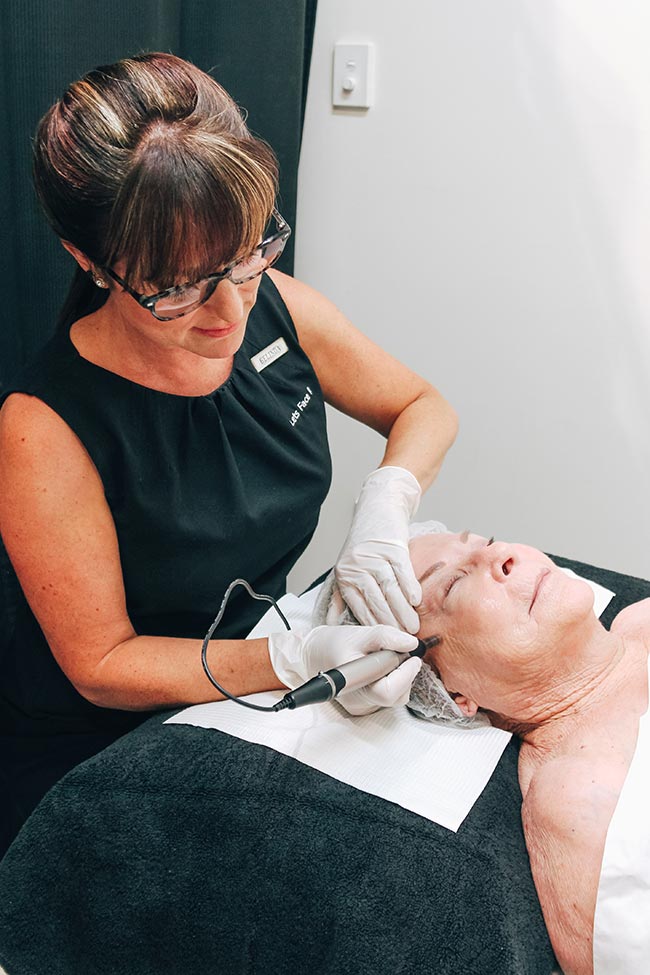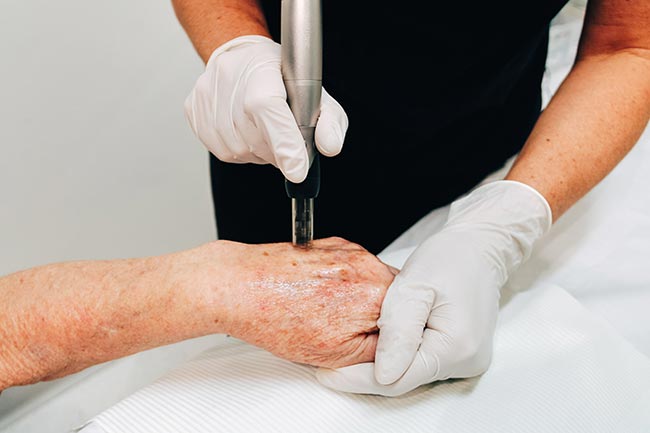 How many treatments are recommended?
We recommend 6 treatments……8 weeks apart. After you've completed this initial program, we then recommend 2 to 3 treatments per year for ongoing skin support.
How long should it take before I see results?
Typically, you will see results after the first treatment. Lasting and more significant results occur after 4 to 6 treatments. Your skin will continue to improve over the next 6 to 12 months after having a course of treatments.
Is the treatment painful?
No. We use a very effective topical anaesthetic cream that numbs the skin before the treatment and it will render the treatment completely pain free.
Is there any down time after the treatment?
You will experience facial redness for 12 to 48 hours after the treatment. We give you a complimentary after care pack that has a medicated foundation for you to wear to cover any redness. It also includes a cleanser and moisturiser to use for 3 days. As the channels of the skin are open for a period of time it's highly recommended to use these paraben free products.
What else do I need to know?
After the treatment take precaution against sun exposure. It is recommended to use a sunscreen designed for sensitive skin. For 5 days following your treatment avoid: excessive cardio work, solariums, chemical peels, dermal fillers, cosmetic tattooing, Vitamin A creams, AHA's, BHA's, alcohol-based skin care, sauna or hot spa bath, swimming in chlorinated pools, IPL/Laser, spray or self-tanning.
Skin Needling Prices
Face - $230.
Neck - $140.
Chest - $230.
Face + Neck - $300.
Neck + Chest - $300.
Note: Face, neck and chest cannot be done at the same time due to anaesthetic guidelines.
Book Skin Needling Now
Purchase a Gift Voucher