Micodermabrasion Treatment
At Lets Face It Skin and Laser Clinic we are very impressed with our Dermasweep MD microdermabrasion machine. This state-of-the-art precision multilevel skin exfoliating system incorporates both Microderabrasion (used by Beauty Therapists) and a mild Dermabrasion (used by Medical Professionals). The Dermasweep MD is the only one of its kind and delivers to you the most amazing instant results.
How does the Dermasweep MD system work?
Using a variable level vaccum system and an assortment of treatment tips, the Dermasweep wand gently lifts the skin against the appropriate tip, removing the top most layer of the skin. The system then vacuums away dead skin in a precise and controlled manner. The skin is left smoother as the vacuum action of the wand stimulates blood flow, cleans the pores and removes the skin debris to a filter. The increased blood flow to the skins surface encourages collagen formation thus firming and toning the epidermis as well.
How does it reduce early aging lines and skin conditions?
The Dermasweep MD provides two aspects of treatments. The first aspect is what we call Dry Dermabrasion. This is what has been explained thus far.
The second aspect is called Wet Dermabrasion. At the same time as the exfoliation process occurs a topical solution to treat your skins specific needs is applied with vacuum pressure. The combination of vacuum, bristle and skin specific solution delivery is a technological leap forward in the treatment of skin conditions. Unlike other traditional microdermabrasion treatments, the bristle tips, vacuum and solution delivery combine to offer the most flexible, advanced and customizable treatments available to skincare professionals today.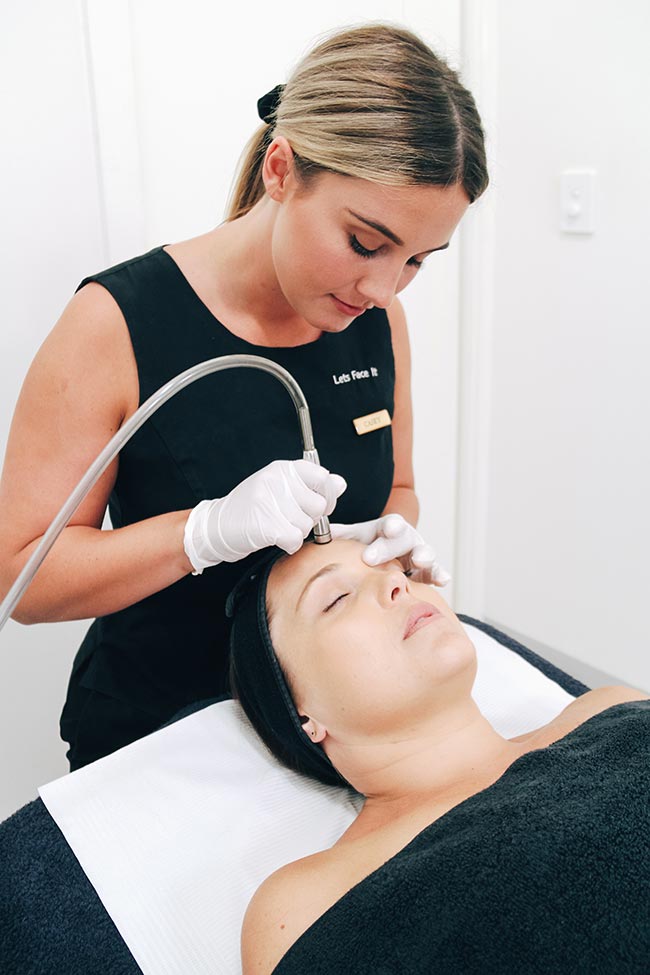 What type of skin conditions does the Dermasweep treat?
The Dermasweep MB is ideal for -
Reducing early signs of aging
Uneven skin texture
Sun damaged skin
Dull and dry skin
Congestion
Enlarged pores
Improving overall skin health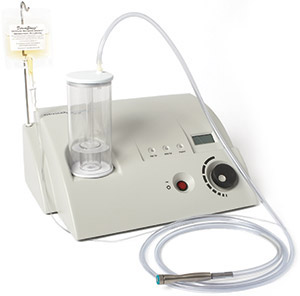 Is the treatment painful?
The treatment is safe and painless and the treatments are done only by our fully trained paramedical therapists. You may feel a mild skin tightening after exfoliation but the skin will be quite smooth. The moisture of any topical solution will also leave your skin with a cool, refreshed feeling.
How long does the treatment take?
Dry treatments take around 30 minutes. Wet treatments around 45 minutes.
What will my skin look like after treatment?
Your skin will have a warm pinkish glow that can last up to 30 minutes. We recommend you do not apply makeup after your treatment but can resume the following day.
Will I miss work or have to stay indoors?
The Dermasweep treatment can be done during a routine scheduled visit and in most cases you can return to your normal activities. However, it is advisable to avoid direct sun exposure for at least a few days after your treatment.
What will I need to do after the treatment?
During the assessment of you and your skins needs we will discuss what cleansers and moisturiser you are currently using. If they are going to cause you irritation after your Dermasweep treatment you may be advised of alternate options. You will be given an after care information sheet that will advise against the use of AHA products, Retin A, Masks, Scrubs, Facial Waxing or any other exfoliating products or treatments for 3-7 days or until your skin returns to normal.
How long until I see results?
You will see and feel the results immediately. For lasting and more significant results we recommend 4-6 treatments done 2-3 weeks apart. You may simply choose the Dermasweep procedure as your regular facial treatment. It can also be incorporated into our facials so you can still have your waxing, tinting, shoulder and décolletage massage.
Microdermabrasion Treatment Price
Express Micro Treatment (dry) $65
Hydrating Micro Treatment (wet) $76
Nourishing Facial with Micro - this is a combination of the Express Micro with Nourishing Facial, which includes - complimentary brow wax + face, neck, décolletage and shoulder massage $108
Add a lash tint to the facial combination for an extra $15
Add a brow tint to the facial combination for an extra $12
Book Mircodermabrasion Now
Purchase a Gift Voucher