Spray Tans
Treatment Options in Newcastle
Spray on tans these days are fantastic. The colours available are beautiful and the application is easy and thorough. So say goodbye to those harmful UV rays and hello to beautiful healthy glowing skin.
We have 2 brands of Tans to choose from: Moroccan Tan and Naked Tan
Moroccan Original is a green-based formulation that is enhanced with cosmetic bronzers to create a warm, bronzed hue.
The newer Tan available is
Naked Tan
. It comes in light and dark colours, is very popular and it can be washed off in 2 hours. The team at the Lets Face It Skin & Laser Clinic are always more than happy to discuss spray tanning options for clients around Newcastle. We enjoy helping you to have glowing skin. Visit us for professional spray tans in Newcastle.
Tanning Process
A full body application will take around 15-20 minutes. Wear loose fitting clothing and shoes to your tanning session. If you are having a St Tropez spray tan do not shower or swim or exercise for the next 6 hours. If you are having a Naked Tan spray tan, you may wash if off after 2 hours. After tanning do not exfoliate until you are ready to remove your tan. It is very important to keep as cool as possible for the first few hours after your tan application.
Tanning Preparation
Shower and exfoliate the entire body including feet prior to tan. Where possible, exfoliate several times eg. If your appointment is Thursday, exfoliate with every shower from Sunday. A glo glove or mit is a great idea. Waxing and shaving should be done at least 8 hours before a tan. When possible, come to your tan appointment with no make up, moisturiser or deodorant on and wear dark underwear.
Tips for Tanners
Do not wash your hands in the few hours after tanning. When washing your tan for the first time use soap and be sure to get all the excess tan off, washing till the water runs clear. A lot of colour will wash off and this is normal. On the day of your tan a little will come off on your clothing. This will wash out of most fabrics but may stain nylon, so avoid nylon clothing on this day.
Is it safe for my skin?
DHA (dihydroxyacetone) has been approved by the FDA for cosmetic applications. It has been used for over 30 years without any harmful effects. Your tan will last 7-10 days depending on the individual and the care you take in preparation. Dry skin and rubbing of the skin will shorten tan life so be sure to moisturise. As you lose your dead skin cells you will lose your tan. After your first shower when your excess tan is removed, your skin will be golden brown. For an unbeatable service, visit us for quality spray tans in Newcastle.
Spray Tanning Treatment Price
Session $30
Spray Tan G-strings $1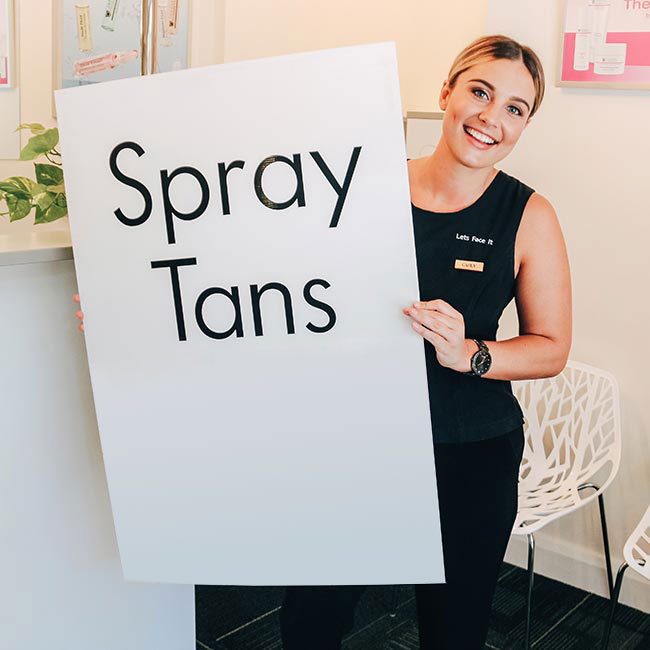 Book Spray Tan in Newcastle Now
Purchase a Gift Voucher